Our newly released report "Remote to Remodelled: Post-pandemic ways of working in a knowledge-driven service business" shares Britest's experience of the challenges presented by COVID-19 lockdown restrictions along with an analysis of significant benefits quantified in terms of time, money, and emissions saved, and new possibilities created by successfully harnessing remote working and service delivery.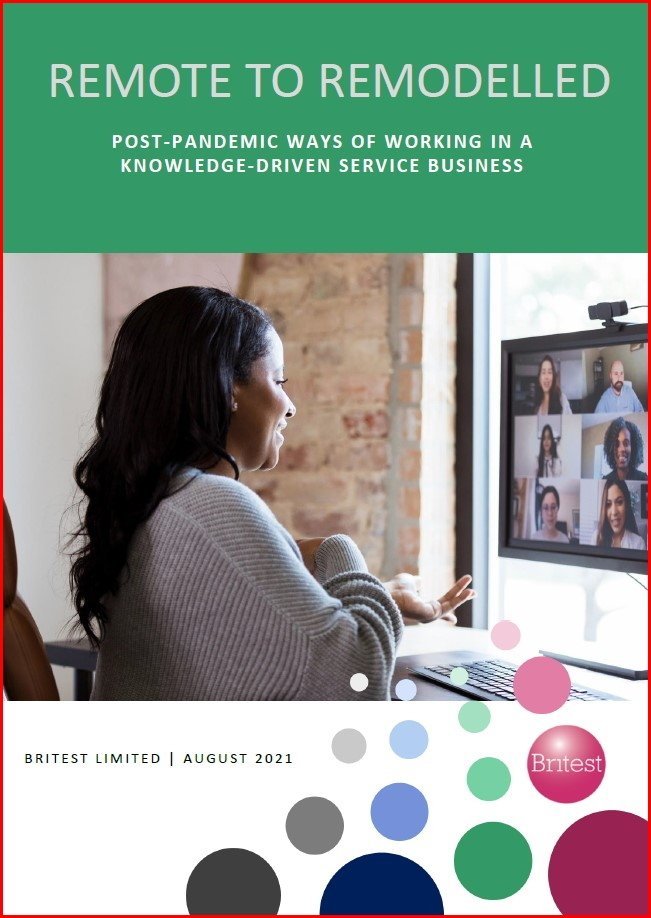 A thorough analysis of all Britest's key business activity and client interactions in the fourteen months following imposition of travel restrictions in March 2020 produced an annual estimate of 6 tonnes CO2(eq) greenhouse gases avoided per head of staff, and a fifteen fold multiplier in total emissions savings when client interactions are taken into account. Substantial business benefits were also identified through direct cost-savings and improved operational flexibility, with corresponding eight to nine fold benefits for clients. Travel reductions also resulted in reduced expense, time gains, and lifestyle benefits for individual members of staff and clients.
The report also looks into evolving attitudes towards remote and hybrid working, in particular focusing upon preferences and good practice for collaborative team-based activities, including Britest's core technical facilitation offering.
Report author John Henderson commented, "We believe the positive balance of sustainability benefits and new possibilities afforded compared to the minor compromises involved is compelling and provides a template for a remodelled way of future working."
Britest's lockdown experience has also catalysed innovation in what is on offer as well as how it can be delivered. With new, extended, and enhanced online service and training offerings set to reach beyond the company's traditional customer base, the indications are that effective, collaborative remote working and service delivery will continue to play a full part in Britest's overall mix of activities as the working world gradually establishes its post-COVID norms.