A feature article by Britest Senior Innovation Specialist Rob Peeling landed behind the doors of thousands of members of the Institution of Chemical Engineers last week in the March edition of the The Chemical Engineer.
The paper - which is available for registered Britest users to download here and available in full to IChemE subscribers and in part to others here, explores the long-standing question of why the introduction of innovative process technologies appears to be so slow in the process industries, and argues that a facilitated decision making approach can go a long way towards accelerating decision making around investment in innovation whilst making sure that decisions are made on firm foundations.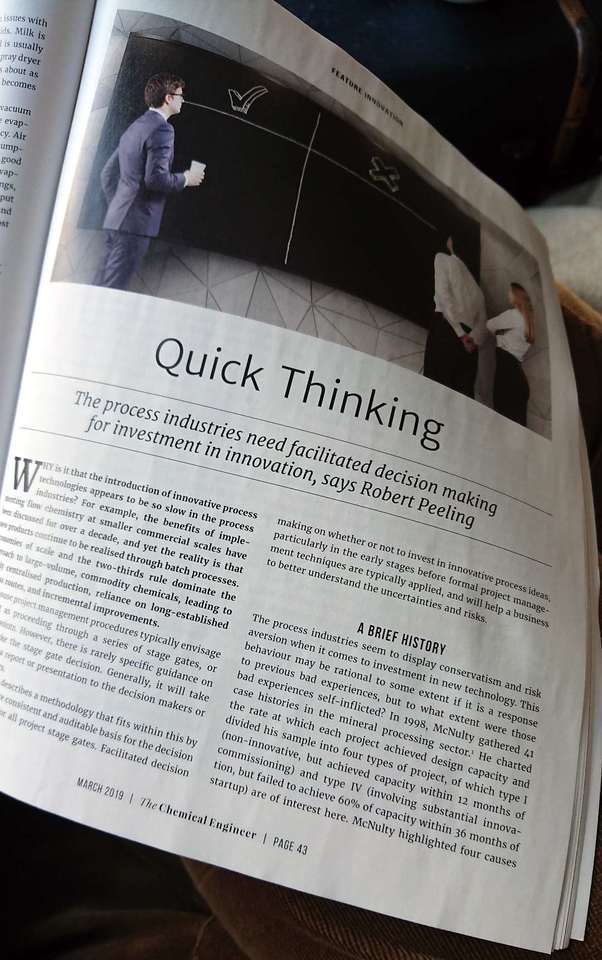 The author goes on to describe an emerging Britest methodology designed to address these requirements by supplying a more consistent and auditable basis for decision makers to use, for all project stage gates. Facilitation can bolster decision making on whether or not to invest in innovative process ideas, particularly in the early stages before formal project management techniques are typically applied, and will help a business to better understand the uncertainties and risks.
A process led by an independent facilitator allows any significant risks, gaps in process understanding, and gaps and uncertainty in available technical and commercial information to be identified

Robert Peeling, TCE March 2019
If you would like to request a personal copy of the paper or to discuss how Britest technical facilitation can contribute to boosting your organisation's rate of adoption of innovation, please contact Rob Peeling..