PDD tool automation wins AZ Britest Innovation Award
Britest would like to extend our congratulatons to the winners of the 2018 John Borland Award for Innovation: Alex Lamacraft and Natalie Monks from AstraZeneca PT&D Chemical Development for The Development and Delivery of an Automated Process Definition Diagram tool.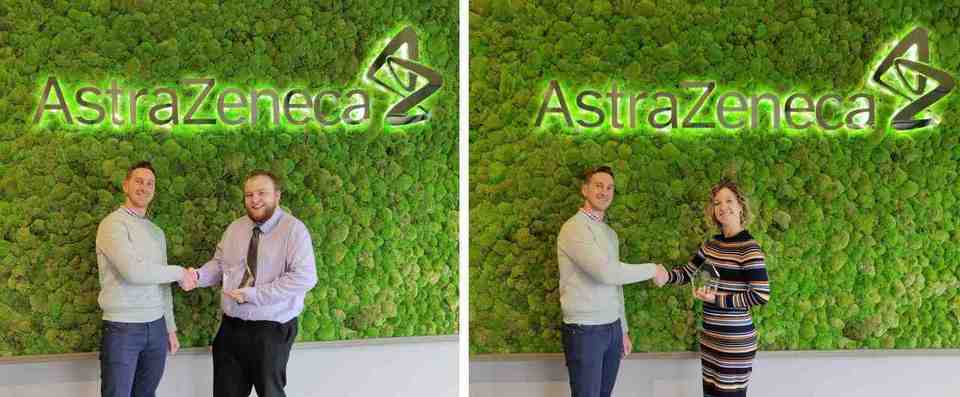 Alex Lamacraft and Natalie Monks are pictured receiving the John Borland Award for Innovation 2018 from their colleague Shaun Hughes.
The Britest Process Definition Diagram (PDD) enables process technologists to describe a process independently of scale and equipment by laying it out diagrammatically as a sequence of tasks that are performed to transform starting materials into products. The use of PDDs has become an essential part of process visualisation, understanding, and practical problem solving across the Britest community, not least at AstraZeneca. Despite this, there has been something of a barrier to teams "just getting on" with generating PDDs - namely the perception that the process of manually drawing PDDs (often as a group) and then transferring and finalizing them (using general graphical software like Visio) can be time-consuming. With the emergence of new programming and automation technologies, AstraZeneca have taken the initiative to transform PDD generation into an automated, user friendly tool, that helps users create finished or near-finished article PDDs in a streamlined fashion.
The availability of an automated PDD tool is now helping to reduce the perceived barriers to generating PDDs so that process understanding and visualisation continues to be enhanced. Use of the new tool is being championed by representatives from AZ's internal Britest group as they further embed the use of Britest tools as their best practice procedure for process understanding and visualisation..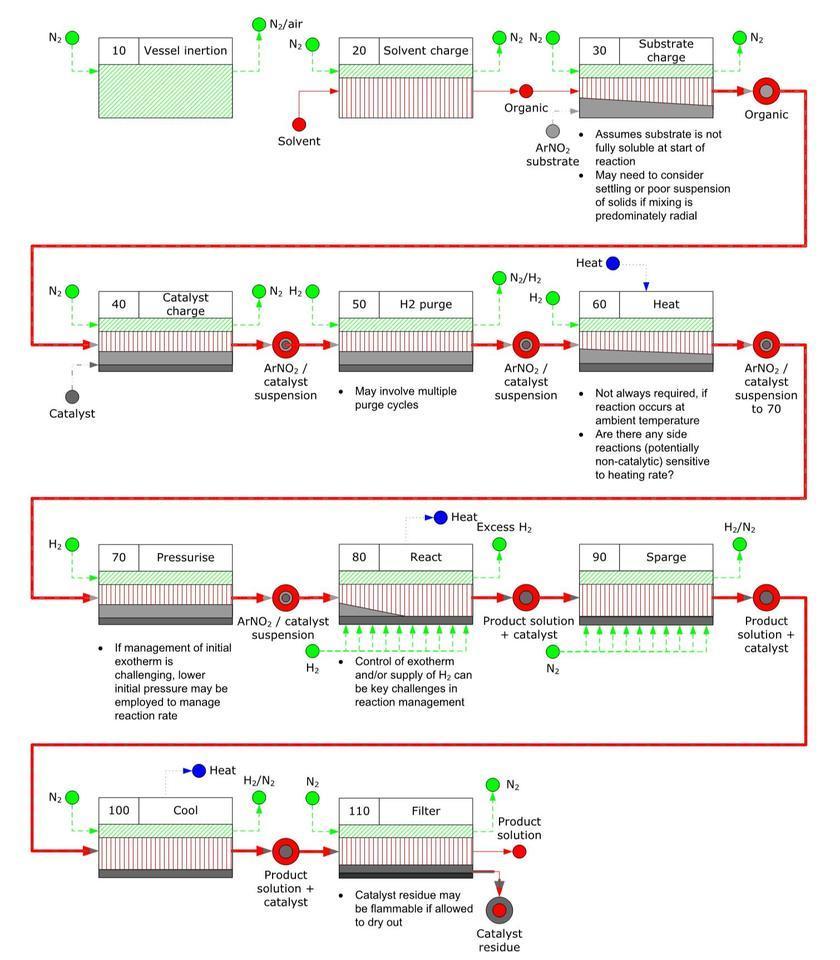 A PDD (such as this example for a hydrogenation reaction) provides a visually rich and information packed representation of the often complex set of tasks required to successfully convert raw materials into a desired prouct.
Announcing the award at the recent Britest Day 2018 event, Brian Murphy, Chair of Britest's Board of Directors said,

"This year's recipients of the John Borland Award have provided a real innovation in the Britest toolkit by enabling teams to rapidly generate output from one of our most valuable tools in an easy to access software environment."