New PDD task library expands armoury for visually presenting processes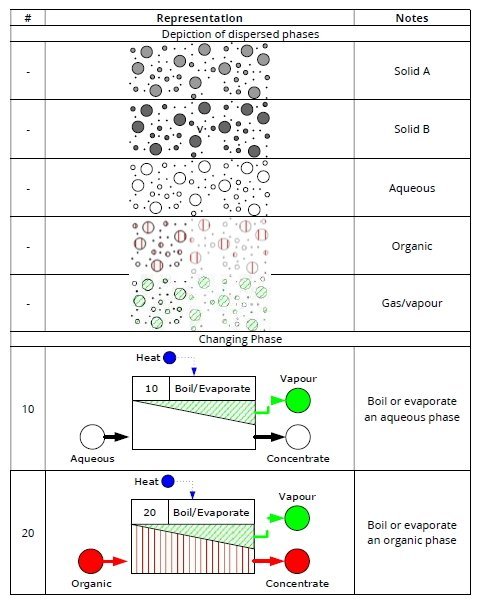 A new "task library" supporting the use of the Britest Process Definition Diagram (PDD) tool substantially expands the armoury of ready-made task representations available to Britest facilitators and practitioners, and helps create better PDDs faster.
It covers a wide range of tasks commonly encountered in the chemical, pharmaceutical and bio-processing industries, including representations of;
a wide range of disperse phases and tasks associated with creating or changing them (e.g. slurrying, spraying);
activities resulting in changes to solids with or without phase change (e.g dissolution, crystallization, milling, tableting);
solvent extraction, filtration, washing, chromatography, distillation, extrusion...
...plus many more.
The newly released PDD Task Library is available to registered Britest users as a FREE download in either Visio or Word format from the PDD tool support page on the Britest website (password protected content).
PDD is a tool that lets process technologists describe a process independently of scale and equipment. It is a form of State-Task Network, describing the process as a sequence of tasks that are performed to transform starting materials into products. They are used to facilitate communication in multidisciplinary teams when scaling-up or transferring technology, comparing options in whole process design, and collating observational data when troubleshooting.
According to Britest CEO Mark Talford,
"The PDD Task Library is the latest example of Britest's commitment to constant innovation in the Toolkit and best practice in the use of the Britest tools."
Britest Advocates benefit from exclusive access to the latest developments, the support of Britest's expert Innovation Specialists and to a voice in Britest's ongoing innovation programme. Contact us today to find out more.