Innovation award recognizes JM's use of Britest tools in hazard studies

Congratulations to the winners of the 2020 John Borland Award for Innovation: Alejandro Santana, Loretta Wong, David Johns, and Antonio Zanotti-Gerosa, from Johnson Matthey for their use of Britest tools in hazard studies for multi-purpose reconfigurable plant.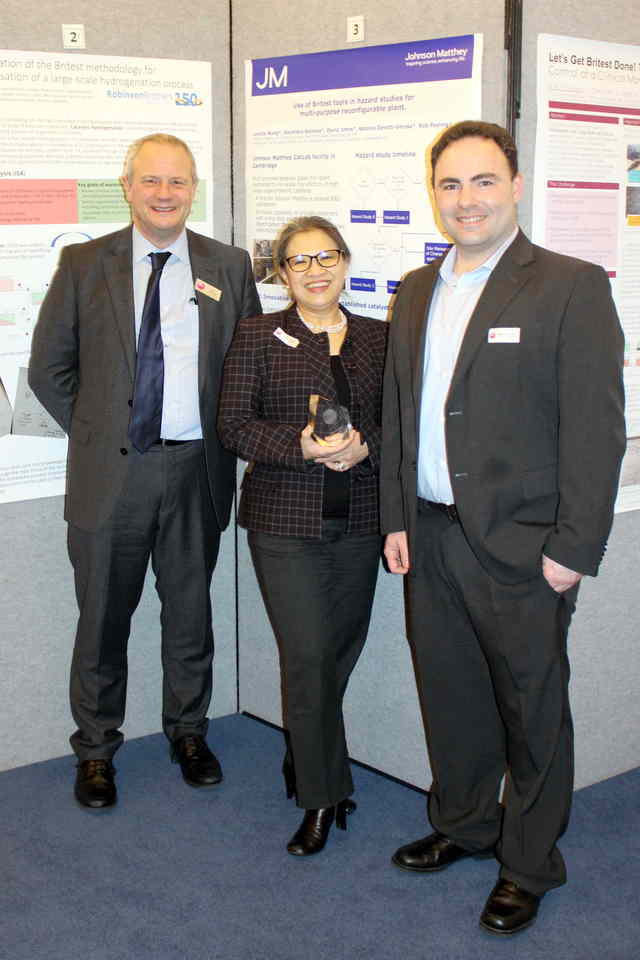 John Borland Award winners Loretta Wong (centre) and Alejandro Santana (right) are pictured with Britest Senior Innovation Specialist Rob Peeling
The group from JM's Cambridge -based Catlab team, ably supported by Britest Senior Innovation Specialist Rob Peeling, demonstrated the novel use of Britest tools in hazard studies, in particular their application to multi-purpose reconfigurable plant and the issues associated with an established catalyst synthesis. Looking at an established process with known process safety issues, the knowledge captured by using the Britest core tools was applied to an existing in-house hazard study format to improve understanding during the process transfer from laboratory through to manufacture. Key issues such as loss of containment or fire and explosion were identified through the use of annotating Process Definition Diagrams with symbols to give a clear visual representation of the issues.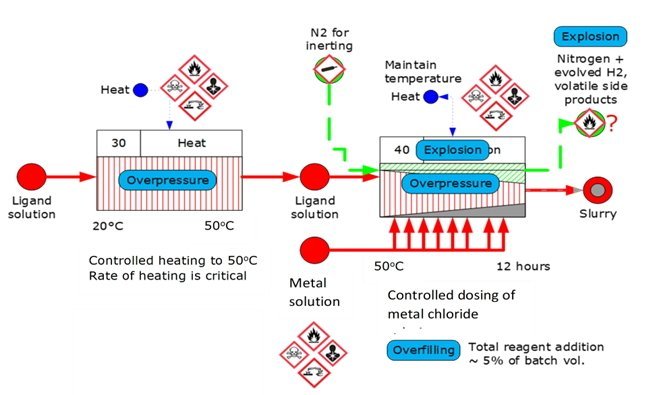 Extract from PDD marked for Inherent Safety Assessment
An extension of the Process Definition Diagram allowed the team to capture control challenges in scale-up. This was used in combination with existing COSHH assessments and hazard evaluation reports to provide a fuller description of the process more clearly than previously demonstrated.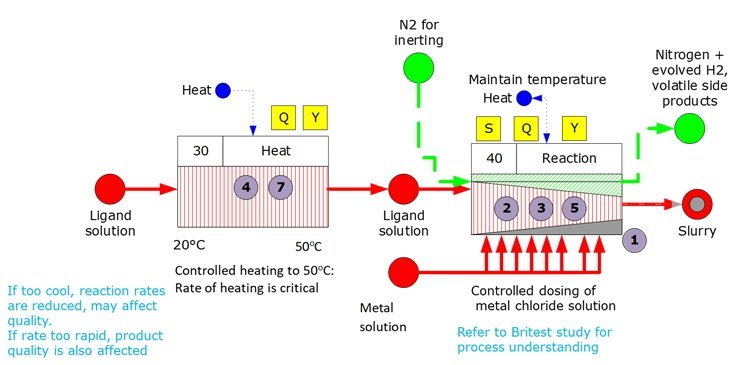 Extract from PDD indicating Control Philosophy
Announcing the award at the Britest Day 2020 event on 23rd January, Britest CEO Mark Talford noted some of the benefits identified by the JM team and recognised by Britest's Scientific Advisory Board in reaching their decision;

"Using the Britest tools in hazard studies enhances understanding of the process safety issues and can bring up a number of previously unforeseen issues. Process Definition Diagrams provide the ability to assign and define mass and energy balances at each stage and to clearly identify any gaps in knowledge. The procedure developed gives a way forward to progress actions such as the improvement of mitigation strategies or process modification requirements and recommendations for further hazard studies."